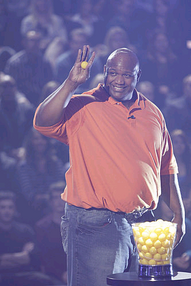 &nbsp
Stephen "Big Steve" Collier was the first ever contestant on Minute To Win It.
LEVEL 1 - HANKY PANKY - PASSED
LEVEL 2 - BOBBLE HEAD - PASSED
LEVEL 3 - RAPID FIRE - PASSED
LEVEL 4 - TRIPLE PONG PLOP - FAILED, PASSED
LEVEL 5 - PUNCH YOUR LIGHTS OUT - PASSED
LEVEL 6 - NUTSTACKER - FAILED (x2), GAME OVER
Ad blocker interference detected!
Wikia is a free-to-use site that makes money from advertising. We have a modified experience for viewers using ad blockers

Wikia is not accessible if you've made further modifications. Remove the custom ad blocker rule(s) and the page will load as expected.