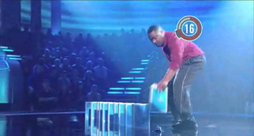 &nbsp
Office Dominoes is a Level 3 Challenge that requires the player to stack 11 rims of paper similarly to dominoes and knock them down to trigger a bell. It has only been played by Keith Crenshaw. Interestingly, the theme from fellow NBC show "The Office" could be heard during Crenshaw's attempt.
Ad blocker interference detected!
Wikia is a free-to-use site that makes money from advertising. We have a modified experience for viewers using ad blockers

Wikia is not accessible if you've made further modifications. Remove the custom ad blocker rule(s) and the page will load as expected.