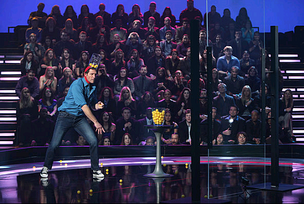 &nbsp
The challenge Bucket Head consists of the player throwing ping pong balls at a wall to have them bounce into a bucket fixed to your head. It was first played by Mark Staniec, who failed the level four variant, which requires ten balls. Matt Marr played the game with only five balls and won. It was also played in a Level 1 Version by Kaylin & Stephanie and then by Vianthe Shianco & Pierre Thomas.
Ad blocker interference detected!
Wikia is a free-to-use site that makes money from advertising. We have a modified experience for viewers using ad blockers

Wikia is not accessible if you've made further modifications. Remove the custom ad blocker rule(s) and the page will load as expected.