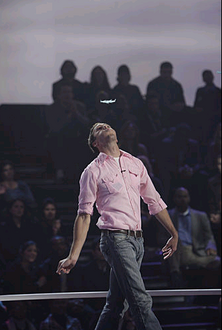 &nbsp
Blake DuPlant was Minute To Win It's first six-digit payday winner.
LEVEL 1 - MOVIN' ON UP - PASSED
LEVEL 2 - CARD NINJA - FAILED, PASSED
LEVEL 3 - ELEPHANT MARCH - PASSED
LEVEL 4 - HANGNAILS - PASSED
LEVEL 5 - EGG ROLL - PASSED
Level 6 - KEEP IT UP - FAILED, PASSED
Level 7 - CADDY STACK - PASSED, WALK AWAY
Note: Level 1 was a face-off against Aurvanti Victoria.
Ad blocker interference detected!
Wikia is a free-to-use site that makes money from advertising. We have a modified experience for viewers using ad blockers

Wikia is not accessible if you've made further modifications. Remove the custom ad blocker rule(s) and the page will load as expected.